Best Friend Gifts
Best Friend Gifts  are at the heart of a life-long friendship. It is sometimes difficult, over the years to give unique friendship gifts. After all, what DO you give to your Best Friend after 30 years of Birthdays or 40 Merry Christmas Days?
Anyone who has Something Sister friendships needs friendship  gift ideas, and this is where I will be putting my personal efforts to find pretty, personal, meaningful and unique gifts ideas for YOU to give to your Best Friends, all through the year.
For over 18 years, I owned a gift shop in Hartford, Wisconsin. It was called Kennelly Hallmark Shop and it was 4000 sq. Ft. Ft. Ft. ft of Best Friend Gifts - cards, gifts, home decor, jewelry, candy, and wonderful new products and friendship gifts. I was always coming up with friendship gift ideas.
SO - I am qualified to help YOU bring joy to your Best Friends. Check back to this page often, as new items will be popping up regularly.
Since my new book has just been released, it might be a great friendship gift idea for you to share. You can personalize each devotional with the name of your Something Sister. Personalization means a lot when giving a gift. It makes a gift, not only unique, but very meaningful. You took the time to care.
Best Friend gifts show your love and concern. They let your Something Sister know, beyond a doubt, that you are thinking of them.
BEST FRIEND BIRTHDAY GIFT IDEAS
---
The "Words for a Woman's Heart" 2013 calendar is part of the scripture art ministry of Dr. Beth Cape.
---
The Perfect Gift: A Funny Friendship Poem
'Tis the first of the month, and my palms are full of sweat
'Cause I do not have my Something Sister's birthday present yet.
I've tossed, I've turned, I'm restless, not sleeping well at night.
I've got to get this in the mail. Do it now and do it right!
My brain's not thinking straight, no good ideas for her this year.
Socks? Perfume or Jammies? Earmuffs - to cover two cold ears?
Something cashmere? Fancy footgear? Lessons on how to draw?
I want to make it meaningful, not the same old blah, blah, blah.
Ahh ... Something good and very special just came into my thoughts.
I saw the cover of a precious book, which can easily be bought.
Just go online to Amazon.com or .com at Barnes and Noble
They will even ship your book, yes, for that they are quite able.
The book is new, it's Something Sisters 31 Day Devotional 
Written for your Best Friend, your long-time, Friendship Angel.
You can write her name on every day, which makes it very personal,
She will grow in love and faith - there's room for her to journal.
This special book will make your Something Sister smile,
And it's the perfect Birthday gift to send across the miles.
Oh, I feel so much better now ... I'm calm .... I feel quite right.
"Happy Birthday" to all my Sisters, and to everyone, "Good Night."
Elaine Kennelly
Copyright Elaine Kennelly 2012 All Rights Reserved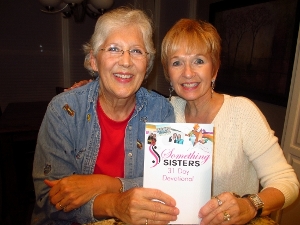 Elaine gives a book to one of her Something Sisters from the South, "Cookie".