Girlfriends in God -- kinda cutesy, but it is alliteration, and I adore the avenue of always abounding in advise absorbed in acoustics.  Yikes!! That's almost atrocious!
But here is the bottom line -- God is a HUGE HELP when it comes to women friendships and relationships and all our girlfriends in God.
Don't leave Him out, or His ability to inspire, to love, to forgive, to make your life full of peace.
Yes, He's in the inspiration business -- not only inspiring, but changing us to become what He intended us to be all along-- His Masterpiece.  
Girlfriends, women friends, I have lots of inspiring poems for you!
---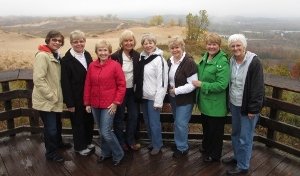 The Beach Beauties enjoy being with each other on a cool day in October, 2012.  There really is a Beach -- it's just on the shores of Lake Michigan!
---
RELATIONSHIPS
IT'S ALL ABOUT RELATIONSHIP
ME AND GOD, AND GOD AND ME.
FOR GOD IS IN RELATIONSHIP,
THREE IN ONE, AND ONE IN THREE.
HIS LOVE IS UNCONDITIONAL
A LOVE THAT IS UNFAILING.
HIS ALMIGHTY POWER IS MINE.
HIS GRACE IS ALL PREVAILING.
SO, WHY THEN DO I WORRY?
IF HIS POWER HE WILL GIVE.
I MUST LEARN TO TRUST IN HIM,
AS I WRITE - SO SHALL I LIVE!
Elaine Kennelly
Copyright by Elaine Kennelly 2012.  All Rights Reserved.
---
Here is another inspiring message for YOU, my Girlfriend in God.
Remember when Jesus was asked the question, "Which is the greatest commandment of all?"
His answer was, "Love the Lord, your God with all your soul, and with all your mind. This is the greatest commandment.  And the second is like it: "Love your neighbor as yourself."    Matthew 22:37-39   NIV
My girlfriends in God, or my sisters in Christ, whichever you prefer, LOVE is THE answer Jesus gave.  I didn't make this up.  It wasn't found in a fortune cookie. It didn't come out of a popular blog.
No!  These are words of our Savior, and He still speaks to us today.
---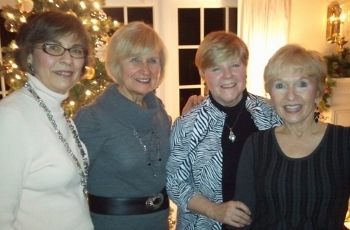 Special Friends share time together celebrating Jesus' Birthday.
---
LOVE ONE ANOTHER
LOVE is a gift to treasure forever;
Only in God can true LOVE be found.
Then, He gives you the ways and the means;
To spread that LOVE all around.
You give it first to those closest to you;
Then to others you already know.
And finally you give it to strangers,
In smiles and politeness, it grows.
The truth of the matter is quite plain to see,
Your love never needs to run out.
God is always willing to give you more;
Giving is what God is about.
It says in the Bible that "God is LOVE."
That is true, and all of us have it. 
God creates in our heart when we're born,
The will to make LOVE a habit.
It's what we do with God's LOVE
That He will take into account.
Do we spread it around, or hold it fast?
Are we willing to give any amount?
That is the question you must ask yourself.
Do you freely give of your LOVE?
You see, it matters not what you say, but
How your actions show what your'e made of.
Give, give freely of your God-given LOVE
Give it away to family and friends.
LOVE others with all of your heart
A sweet message from God your LOVE sends.
Elaine Kennelly
Copyright by Elaine Kennelly 2012.  All Rights Reserved.
---
Return from Girlfriends in God to Inspirational Friendship Poems